From our previous Blogs, you will know there are Human Hair Wigs and Synthetic Hair Wigs, the maintenance of them are different, because Human Hair Wigs are stronger and have higher heat resistance than Synthetic Ones. So before you learn how to take care of the wigs, you should know what material it is made of.
Of course, not all wigs are 100% fit you, if you need style it, it's better to go to professional salons. As you know, your wigs can not grow back like your natural hair after cutting. The Specialists can help you to make the wigs fit perfect on you without any unnecessary loss.
After cutting down Hairs, they lost nutritious, and hair elasticity can not be restored if we over restyled it. Doing too much hair styles can make hair dry easily, it is very harmful to the Human Hair Wigs.
When buying cleaning products for your wigs, you should know regular shampoo and conditioners have a lot of chemicals which may damage the texture of the hair on your wig, specially if it is a synthetic one. You might need to find a special shampoo for Wigs.
What's more, the way that you wash your natural hair and wash the wigs is totally different.
Please follow the picture step by step: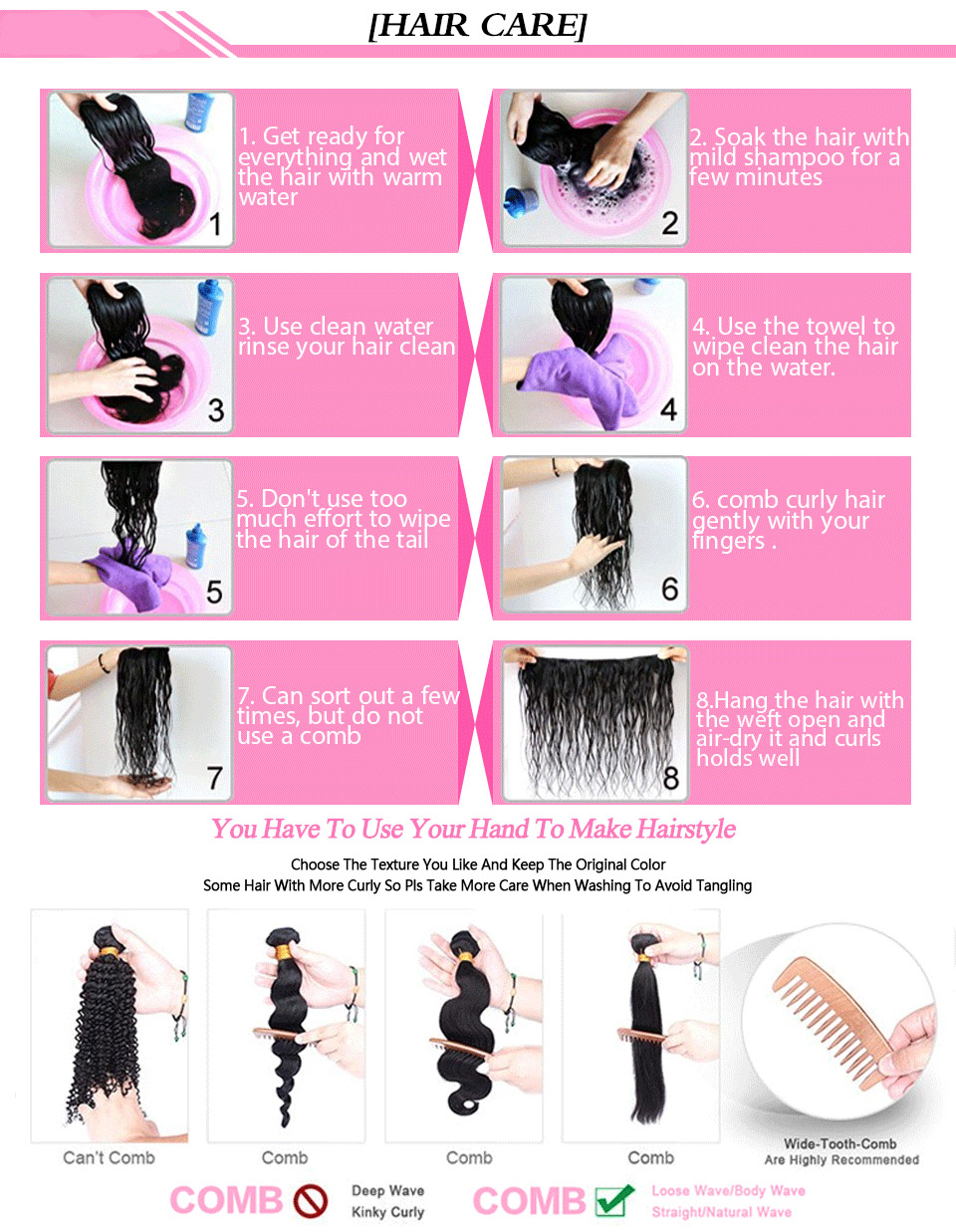 You already learned how to wash your wig, so just follow that steps, and remember never shower with your wig on, and if Raining hardly when you outside, please remember to take it off.
If you don't want to leave it all tangled and full of knots, please never sleep with wigs.
After wearing the wigs, how to store it without any problems? Definitely, it's better to store it in a mannequin or on a special hook, of course, don't forget to cover it to avoid dust.
Remember, taking good care of the wigs, it can last longer, of course, you also need to take care of your natural hair.
If you have any questions, feel free to contact us.