Nowadays, Lace Closure and Lace Frontal are good choices among wig lovers. But do you exactly know the differences between them?
Sometimes, you may so confused by the title of the product in different online shopping website. Don't worry, we will figure out your doubts about what's a Lace Closure and Lace Frontal.
To let you know more clearly, we show you intuitive distinction picture as the following:

A little clear to you right now? Let's move on to know more about the differences in details.
Lace Closure
The lace size of Closure is typically 4"x4", but to meet different needs, there also have smaller or larger sizes, such as 2"x6", 5"x5", 6"x6".
Also, there are two types of closure, one is Lace Closure, and the other one is Silk Base Closure, yea, from the name you can know the Silk Base Closure can offer more natural look, but that's also more expensive.
Of course, to meet different part need, Lace Closure have 4 kinds of part styles, from left to right: free part closure, middle part closure, three part closure, side part closure.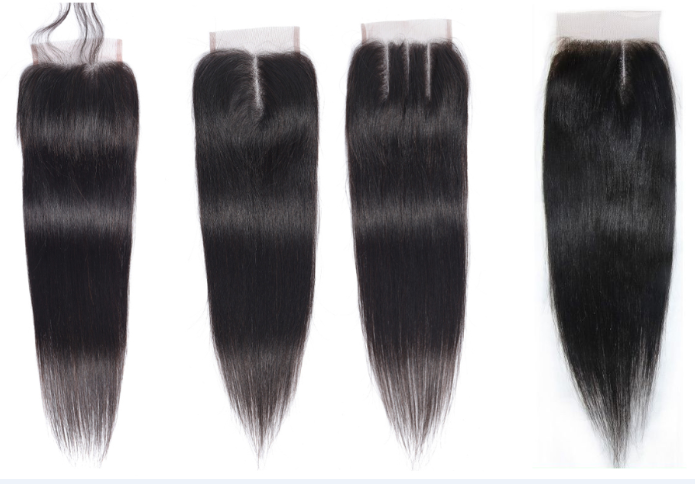 Lace Frontal
A Lace Frontal can cover the entire front of head from ear to ear, that's also the difference between lace closure and lace frontal. Usually the standard size is 13"x4", but also has other sizes, such as 360 full lace frontal, 13"x6".
Lace Frontal usually use 3-4 bundles hair to sewn with, and you can hold the hair back, but with the closure, you can not do like this.
How to choose? Lace Closure? Or Lace Frontal?
Don't worry about making choices. Usually it depends on the hairstyle you want. Lace Frontal will allow you to have a seamless hairstyle so that you can pull hair back off. With properly installation, Lace Closure can give you a natural hairline and scalp area with no hair leave out.
At Jada Hairs, there are lots of options of Human Hair Texture, such as Brazilian, Peruvian, Indian, Malaysian. Each of them have their advantages. Want to know more? Then follow with us.
If you have any questions or need advice, please feel free to call us at +86 131 9321 2017, or email us through [email protected]
We are always at your service, please don't hesitate to contact us!